With a portfolio that includes health supplements, personal care and medicinal products, the company hope to a 300% sales increase this year.
As published by Semana
March 17, 2021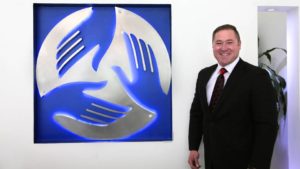 Steven Thompson is the CEO and Founder of Zilis.
Colombia – A year ago, two United States companies, Zilis and Zrii, started the process of acquisition and fusion of their businesses. Zrii is reowned in Colombia and various countries around the world for the sale of nutritional products and self-care, while Zilis is one of the main American CBD companies, with a presence in over twenty countries.
What motivated Zilis to buy Zrii? What does this company bring to the table strategically? How will the businesses complement each other?
 The CBD industry is going to explode worldwide, and Latin America is a region where CBD is almost non-existent up to this point, so we want to make the most of it. We intend to be the biggest global player in CBD all over the world.
Regarding Zrii, I knew the Founder and CEO of Zrii very well, he was a personal mentor to me for many years and also a dear friend. He is in his late 70s and has made a lifetime of extraordinary wellness, but he is at a point in his life where he wants to travel more, enjoy his retirement, his family. However, he also cares deeply about Zrii distributors and the staff, so it was like a perfect fit. There's a lot of trust between the two of us, so I think, (I don't speak for him, for Mr. Farley), but I think for him it was almost a way of passing on a legacy.
It was one of those warm moments, one of those rare times in business where you have a very nice acquisition and merger. Because you know that kind of thing is a challenge. As for the second part of the question, for us what Zrii offers is obvious, starting with seven different countries. You stop to think how long it would take a company to expand into seven countries in a new region, especially during COVID, when flying is difficult. Now, imagine trying to hire staff when people in some countries don't even go to an office, so how do you train your staff, then imagine, finding offices, fulfilling distribution, all those things. So, it was a unique opportunity that allowed us to kind of decrease the time estimate to get our company fully up and running in Latin America. It decreased the amount of time substantially, at least 5 years, maybe more.
 What were Zilis' main results in a year as complicated as 2020?
 2020 was a challenging year for everyone. At Zilis, we chose to invest more in 2020 than we ever did before, all with the future in mind. From product development, scientific research, technology development, to international expansion. We expanded in Europe and Latin America in 2020, and it was impressive. There were a lot of companies that decided to pull back and be very conservative, we did not, we chose not to because it is a very unique moment. We are living in the age of COVID and a lot have talked about a new normal, but this term, "new normal" tends to be misunderstood, because yes, there will be new normal, but it will be better.
For example, working remotely is something that millions of people around the world did in 2020 but had never done before. For many people, if you told them to join this webinar or connect to a meeting, these people didn't know how to do it, now they do. So that's how we learned that you don't have to physically be in one place to do business.
However, I also know that you can't build a business through a webinar, it would be like trying to raise our kids through FaceTime, and you can't do that, but if you think about it, FaceTime is a valuable tool. For example, I talked to my daughter this morning on FaceTime. So, what's great is that it's possible to be in different countries and be able to see each other and be able to take full advantage of technology, but I think you can't replace being face-to-face, and for that, I'm here.
So, I see the new normal as offering us certain advantages. This is not the first pandemic that the world has experienced, it happened in 1918 with the Spanish flu and there were 500,000,000 people, 500,000,000,000 people which is a lot more than COVID and it was very deadly. But guess what, within a few years, life was back to normal. Did you know that the vaccine wasn't developed until 12 years later? So, I'm thinking, will I get the COVID vaccine until 2032? No, now we have a vaccine after one year.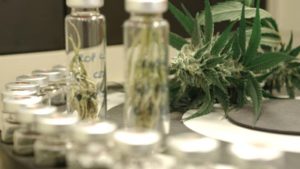 The focus of the company's work is the discovery, development and commercializing of new therapeutic products from cannabis. Photo by GW Pharmaceuticals.
So, life will go back to normal, it will shock us, we won't forget it, but people are also going to be very motivated to get back to normal. People are going to want to go out and build their dreams, they're going to want to travel, they're going to want to get out. You can't just suppress people for long periods without expecting a backlash. So, we moved confidently into the future and now is when things are starting to ease up in the world getting a little bit back to normal every week.
In Texas, where I live, they just removed the mandatory face mask requirement, and all businesses are 100% open. Texas has always been a bit progressive in their individual freedom, Texans believe in individual freedom and rights, and that is slowly happening all over the world. Every month that goes by, things are going to get more and more flexible and we'll have 50-plus people at a meeting one month, the next month 75, then 100, and so on. Life as we know it is not going to end.
How big is the company now (in terms of how many countries they will operate in, how many consultants they will have, what size market they plan to reach)?
It is not big enough yet (laughs). We have offices in the United States, Germany, seven countries, including the office here in Bogota. In all, we have a little over 100 employees. And, not including the executives coming from Zrii, there are a little less than 100,000 Ambassadors. When you include them, I can't calculate the number because it's incredibly big, but you can imagine with a company like Zrii that has been in the market for at least 10 years.
 What are the company's business expectations for 2021?
2021 is going to be a great year. Our goal is to grow 300%, that is our corporate goal, and I think we have a very realistic chance of achieving it. For me, what we achieve in 2021 in terms of results is not the most important thing, but what happens in 2022.
What 2021 represents to me is the work that needs to be done to move out of COVID into the future. For me, it will be about working harder in 2021 than in any other year because, in the business and entrepreneurship industry, results are not immediate, you don't see what you did today automatically tomorrow. Results come later, days, weeks, months later, and so on, but I feel like when you look at the Zilis platform, everything we've built, that's when you realize. Everything we've built, it's like a building, this building. They didn't build the walls first, they built the foundation first, so if they wanted to have a building that was, you know, a 10,000 square foot building, they couldn't build a 2,000 square foot foundation, they needed a 10,000 square foot foundation to be able to put a 10,000 square foot building.
So, in 2020 we focused on the foundation, now the foundation is laid, so now we're starting to build the building, but this beautiful building wasn't always like this, in the beginning, it was just a bunch of wood framing, the basics. So, we're moving forward on the foundation. 2021 is the construction, 2022 is when we have beautiful floors, marble countertops, and granite countertops, and all those things, the beautiful art, and all that.
 Colombia is committed to attracting investments to develop medical cannabis, in that sense, do you plan to supply oils in the local market? Can you give us some details on this matter?
Of course. The first thing is that cannabis can be a bit confusing because it can be a derivative of marijuana or it can be a derivative of hemp and both come from the cannabis plant. But they're different, they're different species of the plant, almost like a brother and sister. They're very different, they both have their own, unique markets. On one hand, cannabis has a social side, where people use it for "recreational" purposes, but there are others who use it for medicinal purposes. In that sense, they cannot be compared because people can use our products, which are hemp-based, you will never feel anything psychoactive because there is no THC, which is the psychoactive component, however, they have all the medicinal benefits of marijuana at 100%.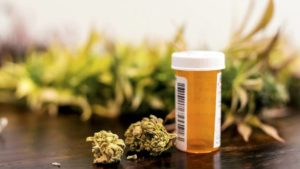 Photo by Getty Images.
I think there are more and more people who want medical benefits without the side effects of marijuana. So, if you could get the medicinal benefit of something that allows you to take the products in the morning and go to work, well that's great! Because you have to keep in mind that if you're using medical cannabis you can't go to work, you can't drive your car; for example, I love a nice glass of wine once in a while, but I don't drink a glass of wine in the morning. I'm not suggesting that there's not a market for traditional medical cannabis, but I think globally the growth is on the hemp side. Because think about it, you don't have to go to the doctor to get it prescribed, you don't have to go to the pharmacy to pick it up, you can just get it delivered to your home, you can get it from one of our Ambassadors or pick up your product from the office. It's easier, so I feel very optimistic about medical hemp.
And that's what we're already seeing. In the United States, we already have a five-year track record, and we've sold millions and millions of dollars of our products, we've had hundreds of thousands of people taking UltraCell™ and the other products that we make, so we've had again thousands and thousands and thousands of written and video testimonials from people who are sharing what the product does for them from a health benefits perspective, and it's crazy. For example, someone using it and starting to sleep when they hadn't been able to do it easily in years.  Or someone using it for discomfort relief or stress relief, that kind of thing. So, I'm excited to see those testimonials in Latin America and of course in Colombia. And as we grow, so the testimonials increase and that's where the word-of-mouth component, we call it, becomes so powerful compared to a traditional online distribution channel or even a retail store.
At the event that we broadcast live from the city of Bogota, for all Latin America, as part of the tour that I'm doing around the countries where we have a presence, we had over 500 of our Ambassadors on a medical training call that was done by our Director of Scientific Research and Development, Dr. Marielle Weintraub Ph.D. She's training people and it won't just be for one time, they will be trained over and over again and a lot of the information will be the same, but sometimes you have to listen and learn something several times to understand it, so that will create an army of educated experts on our products.
 What are your sales and growth expectations in the Latin American market? What is your goal for the Colombian market?
To grow 300%.
How attractive do you see the Colombian market? What potential did Zilis see in the Colombian market?
From what we can get from industry statistics and market research, the latest data we got from 2019 shows that Colombia made more than 4,000,000, and the important thing here, is that the studies project an impressive growth to 49'000,000 million by 2023. Now, those are not our numbers, they are those of the industry, so I can't help but think that if we lay the biggest and best foundation of any CBD company in Colombia, the country will be the biggest beneficiary of that growth.
Finally, let's talk about UltraCell™, is it an exclusive technology?
Yes, it is a proprietary technology that we own. UltraCell™ is a technology that takes oil-based compounds at the molecular level and makes them water soluble. For example, if you rub any lotion on your hands you will see that they get a little greasy because the oil cannot fully penetrate the layers of the skin, the water layers. And it's the same for example if you take any kind of supplementation, whether it's vitamin D, vitamin E, CoQ10, or similar, you get very little absorption because the body has a hard time absorbing the oil. It's only absorbed through digestion, at a very low level. UltraCell™ converts the oils into water soluble formats, so when you put UltraCell™ on the skin it is absorbed immediately, after rubbing it leaves no residue, it will be absorbed instantly. It improves bioavailability and of course, improves results. In the end, it doesn't matter how much you use, but how much you can absorb.
So, it's a serious competitive advantage for us, because you have to use a much smaller amount than you would normally use. So, it costs a lot less than other products if you compare it to the investment that you have to invest in five bottles or jars of a different product. Even if it's a product that comes from the same strain, the same farm, so it's the same high quality, it's organic, all of that, you still have to use five times more of that oil than UltraCell™.
---