As published by Ysabel Collado, Selecta Magazine, Panama
March 8, 2021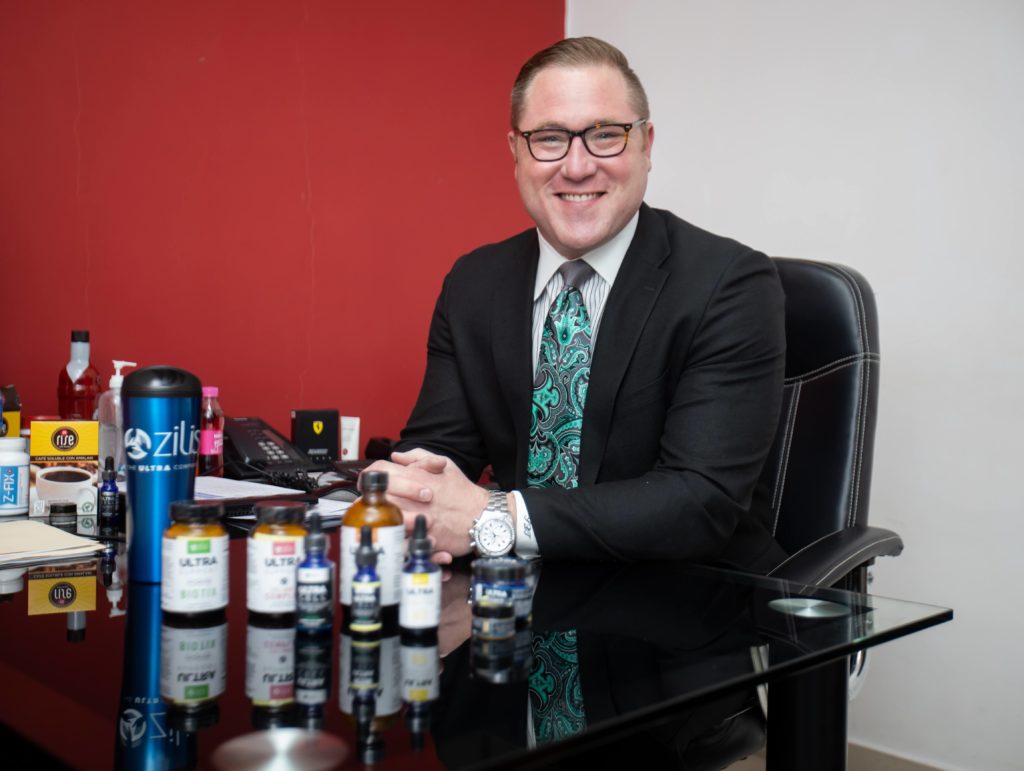 SELECTA had the great opportunity to talk to the Founder and CEO Steven Thompson to get the best details about the future of Zilis on the continent. Photo by Selecta Magazine
Panama City, Panama – Nowadays, alternative medicine is a branch that is gaining more and more strength, and among a great variety of supplements and components, CBD is undoubtedly the protagonist among all of them. Now, if we talk about success in the world of cannabidiol, it is impossible not to talk about Zilis, a pioneer company in the area, with top-quality products and new technology that offer better results to their users.
However, in addition to the success of their hemp oil-based products, Zilis is also a company that offers great opportunities for growth and personal economic success for many people in the world, and today they are expanding to Latin America! Thanks to the purchase of Zrii, a company focused on Indian medicine, today Zilis reaches further, and SELECTA had the great opportunity to talk to the Founder and CEO Steven Thompson to get the best details about the future of Zilis on the continent.
The first thing we would love to know is what motivated Zilis to buy Zrii? Strategically, what does this company bring to the table, and how do the businesses complement each other?
That's a great question, so let me answer it in two parts. The first thing we have to look at is the industry itself. I think 90% of success is timing and positioning, and what our company did to be successful in the U.S. was to get into CBD early.
We got into the CBD business almost immediately, I didn't know anything about it at the time. But the point is that experts are predicting that the Latin American market is second, in what is called market readiness around the world. In other words, if you look around the world and take a look at what the population bases are, they are more open to a naturopathic side to natural remedies, Latin America is second in the world, so the numbers are predicted to grow over 1000% in the next few years.
So as we look at that, we ask ourselves how do we get into Latin America, if you think about it, being a company based in the United States and Europe, you think how will I do it? It's very difficult to get into a region if you don't have a relationship with different parties: managers, employees, lawyers, accountants, there are so many different people that are involved. I mean, there are probably 100 or more in international expansion, and in Latin America, you don't have what you have in Europe, which is a European Union, so there is no governing body over all these countries.
In Latin America governments are individual and that's why it can take at least five years to fully expand in five or more countries in Latin America. And in this case, a good friend of mine, a man who was my mentor for many years, owned a company called Zrii, which I was very familiar with. He is now at an age where he is ready to spend more of his time with his family, and think about retirement, but at the same time genuinely loved and cared about his distributors, (which is a lot of people throughout Latin America) and also his employees. One time, we were talking about things other than business, and  I mentioned to him that I want to bring Zilis to Latin America, and he said, I have a great idea, how about you buy Zrii? That's how it all started, it was a very friendly conversation that built on itself, and then, next thing you know, the deal was done.
So, you ask me what motivated me? Well, how long would it take you to come from the U.S. to any country in Latin America, added to that, during the COVID crisis and try to hire staff, open offices, register the products, have a banking and accounting platform, all these things, which I repeat, I think it would take at least five years, so this was a perfect opportunity. And so, it was, it was an amicable situation where I was able to take over my mentor's business and continue his legacy. And it's been fantastic.
The previous year was undoubtedly complicated for everyone, but what were the main results at Zilis in a year as demanding as 2020? 
That's a good question, 2020 was a year that no one expected, and the truth is that most companies just stopped. Because of the pandemic, companies wanted to hold resources and play it safe in 2020. I decided not to play it safe at all. In 2020 we invested more than at any time, from product development, product technology, research and development, international expansion, and everything that comes with it. Even talent acquisition and our management team. We put more into 2020 than in other moment and the reason is that I know what's going to happen, there's going to be an economic explosion after all this.
In physics, for every action, there is an equal and opposite reaction. When you take hundreds of millions of people and you lock them up for a year or more, and kids can't go to school, people can't go to a restaurant, there are curfews, all these things, when this finally happens, (because it will happen, this is not the first time we have had a pandemic, this has happened before) you realize that the best teacher of the future is the past. When we look back, we realize that the economy is going to explode. People are going to want to go out, they are going to want to travel, they are going to go for their dreams and nothing and no one is going to be able to hold them back or contain them any longer. That is why the key was to invest more during 2020.
Zilis has a large number of collaborators around the world, but how big is the company now, with the addition of Zrii (in terms of how many countries they will operate in, how many consultants they will have, what size market they plan to reach)?
Well, we are not big enough yet (laughs). First of all, we have over 100 employees now. We are in the United States, in Europe, as well as seven countries in Latin America and we now have more than 100,000 ambassadors in all three regions. Our goals are clear. We want to grow 300% and we know we are going to achieve it, both in the company as well as in each market.
We are delighted that you are here, and we would love to know why Zilis came to Panama and Central America?
I think Panama is the economic engine of Central America. Panama is fascinating. When you come to Panama there is just a sense of prosperity, a sense of having growth possibilities available to you. Already seeing just, the F tower, a skyscraper, and the whole city, you know that Panama is bold. Panama is possibility and that's what I love about this country. So, for me, Panama is going to be the driver of Central America, considering that here there are greater resources, a greater possibility of investment, and that kind of thing. I think Panama is going to be the window for the rest of Central America for sure.
The issue of confinement has been very hard on different sectors. How is Zilis contributing to the recovery of the post-pandemic economy in Panama? 
Right now, we are doing something we call the Stimulus program. When you think about it, you realize and see how millions of people lost their jobs, their stability, their income, and you see these massive layoffs or see how they lost benefits like raises and bonuses, and all these kinds of things. So, we decided to create this Stimulus, a multi-faceted program that allows a new person to join Zilis and start a business for free.
What would normally cost $99 dollars to start their business was eliminated, so a person can come in and start their business and have all the benefits. They have at their disposal a platform that would cost hundreds of thousands of dollars to create, an e-commerce website, have access to a back-office cloud, online tools, different resources, and training materials. And literally, they can join for free, so we hope that we're going to stimulate the personal economy in 2021, and of course the local economy. So far, it's been fantastic, we've grown 500% since the launch of this program. Also, we are generating employment in Panama and we have a customer service office located in an easily accessible area via España, with all the conditions to facilitate the marketing of our excellent products to our Brand Ambassadors.
And now that you are here, what is in store for Panama and Central America in 2021?
If 2020 for me was to lay a solid foundation, 2021 is the beginning of construction. In 2021 we are not going to put luxury marble floors, nor are we going to have sculptures. For example, I'm staying at the JW Marriott, which was Trump Tower, and you walk around there, and you find those magnificent sculptures, which are huge and it's a beautiful building, but at the same time, you realize that it wasn't always like that. First, they had to build the foundation, the foundations of that building, and that's what 2021 is going to be for us, it's going to be the creation of those solid foundations for Zilis and UltraCell™ in Panama and Central America. Now, we will see that evolution in 2022. There we will see how that beautiful building will be built and how it will be decorated.
After knowing a little bit about the economic sector, how attractive is the Central American market with the CBD trend?
Well, when you look to the economic experts, they are predicting that the market is going to grow over 1000% in the next three years, and those are not my numbers, they don't come from Zilis, they come from independent economists and market trackers, who research the industry. So, for me, when I look at Central America, I see it as a gateway. A gateway to South America, a gateway to Mexico, which is predicted to grow by a quarter of a trillion dollars in three years, but it's also a gateway to Europe, and that's what's fascinating. You come to Panama, and you realize that here there are people from all over the world. Panama, how I see it, is like a panel, it will become a kind of nucleus, and from that nucleus, we will have massive reach all over the world and it will be very fun to see what happens and how it evolves.
Panama is almost like the Dubai of America. Dubai in the Middle East is a very unique thing because it is very Asian but at the same time very European, so it has multiple facets to explore. Panama reminds me of exactly that.
And finally, what everyone wants to know, what are the product lines that Zilis wants to launch in Panama and Latin America?
I think that knowing what I already know and with my experience of being a pioneer in the CBD industry in the U.S., the first challenge more than bringing product or eagerness, is an educational issue because what many people think, is that from cannabis only marijuana products are obtained, and it is not. So, cannabis can be marijuana, with its recreational effects, but it can also be hemp with therapeutic effects. That is the side of the industry that we want to enhance, and we believe it will be the biggest because it provides all the medicinal benefits with none of the side effects.
So, we invest in tools, technology, research, and development, but we also have to be careful, we have to be down to earth and be aware that right now, we have to focus on education; so, what is full spectrum hemp CBD? What is full spectrum? What is the endocannabinoid system? What is CBD? How does the body work? All those aspects. Our technology called UltraCell™, which is the name of our flagship products, is what we need to focus on and get all of our ambassadors to understand because that's what will lay the foundation for us to be able to offer other products like CBG, CBC and more.
---