Argyle, Texas, January 12, 2021 – Zilis LLC, a CBD industry leader, has launched a line of cannabinoid-infused skincare products featuring Precision Spectrum™ cannabinoids and clinically-studied skincare ingredients to deliver hydrating and beautifying nutrition for your skin.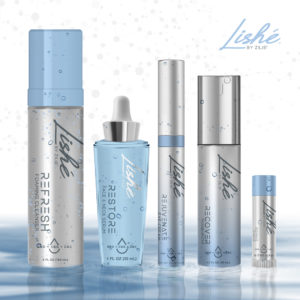 The Lishé™ by Zilis™ products include CBD, CBG, and CBC, which work synergistically with other carefully-selected ingredients including Squalane, Soybean fiber, and Mexican Blue Agave Extract to revitalize, hydrate, and promote youthful-looking skin.
The line includes Refresh Foaming Cleanser, Restore Face and Neck Serum, Rejuvenate Eye Cream, Recover Moisturizer, and Revive Lip Balm, which are designed to be used together as part of a nourishing skincare routine.
The products are paraben and sulfate-free and are either dermatologist-approved or pending dermatologist approval.
Gabriel Ettenson, Senior Innovation Strategist for Zilis, spoke on the impact of this product launch, "With the inclusion of our proprietary Precision Spectrum™ extract, and it's unique 1:1:1 ratio of CBD, CBG, and CBC, Zilis is both disrupting the hemp industry and the multi-billion dollar skincare industry. We couldn't be more excited to witness the incredible benefits these ground-breaking products will bring to the Zilis nation."
Marielle Weintraub, Ph.D., Director of Scientific Research and Development and Chairman of the Zilis Medical Advisory Board, explained how these new products  complement the existing Zilis products, "With the launch of Lishé™ by Zilis™ skincare, Zilis is now able to offer products that nourish the body from the outside in, in addition to our phenomenal products that are designed to support the body from the inside out."
Zilis announced the new line at their first virtual New Year's Kickoff event, which gave their Ambassadors in the United States the chance to learn about the Lishé™ products and start 2021 with a united vision for the year ahead.
Steven Thompson, CEO and Founder of Zilis, emphasized the importance of the Lishé by Zilis™ product line, "We're excited to combine cutting-edge skincare science and innovative cannabinoid science to develop these one-of-a-kind products. We expect that the Lishé™ by Zilis™ launch will be our most successful product launch to date."
About Zilis LLC
As a hybrid social marketing company focused on endocannabinoid system health, Zilis is the creator of hemp-derived products including UltraCell™, UltraCell™ Topical, UltraCell™ Powder, UltraCell™ Pet, UltraCBG™, UltraR&R™, UltraBliss™, UltraReVV™, and their new Lishé™ by Zilis™ cannabinoid-infused skincare products. They also offer hemp-free products including a line of boosters to support specific areas of wellness and the UltraSupport™ line of health supplements. Zilis trusts its distributed workforce of Independent Ambassadors to sell its products to customers either independently or through their Ambassador retail business. Based in Argyle, Texas, a suburb of Dallas-Ft. Worth, Zilis is privately held.
For More Information (Press Only):
Amanda Green, Communications Manager
214-705-3702
415 US Hwy 377, STE 2020